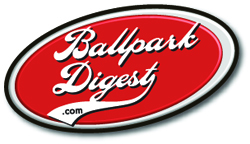 Just a warning that we'll be on the road much of the next three weeks, as we start the season with trips to Phoenix and Florida for spring training.
Next week we'll be in Phoenix for the week. Highlights of our schedule: the grand reopening of Hohokam Stadium (and, if all goes well, a tour from the A's of the renovated Lew Wolff Training Complex) on March 3, a look at the renovated Peoria Stadium on March 4, and a night game for the Arizona State Sun Devils at the revamped Phoenix Municipal Stadium on March 6. Other stops on the trip: Surprise Stadium and Maryvale Baseball Park.
The following week we trek to Florida for a Grapefruit League trip. Highlights of our schedule include a March 15 look at the renovated Hammond Stadium and CenturyLink Sports Complex and a March 17 date at McKechnie Field for a Pirates match. Other stops on the trip: Roger Dean Stadium, Champion Stadium, Jay Bergman Field, USF Baseball Stadium,  Steinbrenner Field and Florida Auto Exchange Stadium.
Last year was the best ever for Ballpark Digest on every level: page views, social media support and revenue. We're looking forward to a great 2015 season, beginning with spring training. Next week we'll have news about our next book for the season.