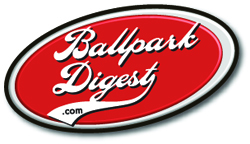 Our most popular promotion ever is back, as we're asking fans to vote on their favorite ballparks in the Best of the Ballparks contest! We continue the voting today with the first round of polling on High-A ballparks in the California League, the Carolina League and the Florida State League.
We'll be running the contest with seeded brackets, so there will be plenty of action in coming days. The first round will be a play-in (thanks for the inspiration, NCAA!), followed by additional rounds before winners are announced at the end of June and early July. For MiLB, we'll be structuring the voting by classification, so the competition is broken down into Triple-A, Double-A, High-A and Low-A. Next month we'll launch short season A and rookie-league voting, as well as summer-collegiate and independent leagues. And, of course, the MLB parks stand on their own.
We know from marketing stats a third of our readers work in the baseball industry, so we're tapping into that collective expertise. And we know from our research that a third of our readers sell to the baseball industry, so that expertise will be valuable as well. The remaining third — fans, media, government — will certainly have a different view on things as well. We can't wait to see what our readers — whom we consider to be the smartest folks in baseball — say about the best of the ballparks.
Some notes on the voting. First, votes are filtered by IP address, so we're limiting folks to one vote. (Feel free to hit that reload as many times as you want, but multiple votes will be filtered out of the final tally.) Second, you don't need to fill out a full slate: partially filled votes will count. Third: desktop users will see all 13 choices; tablet and smartphone users will see one choice at a time.
Voting for this round has ended.
Here's our ranking of High-A ballparks, combining Carolina, Florida State and California League facilities. This was an extremely difficult list to seed and took several days of thought and deliberation. Occupying the top spot is Frawley Stadium, home of the Wilmington Blue Rocks, the winner of the Best of the Ballparks 2015 voting. We honestly don't expect the voting to follow our seedings: our readers can be independent, and they share a love of ballparks and the fan experience. There were several surprises in last year's competition; we expect some this year as well.
1. Frawley Stadium (Wilmington Blue Rocks; CarL)
2. Bright House Field (Clearwater Threshers; FSL)
3. Hammond Stadium (Fort Myers Miracle; FSL)
4. McKechnie Field (Bradenton Marauders; FSL)
5. BB&T Ballpark (Winston-Salem Dash; CarL)
6. Banner Island Ballpark (Stockton Ports; CalL)
7. Ticketreturn.com Field (Myrtle Beach Pelicans; CarL)
8. Rawhide Ballpark (Visalia Rawhide; CalL)
9. Charlotte Sports Park (Charlotte Stone Crabs; FSL)
10. Loanmart Field (Rancho Cucamonga Quakes; CalL)
11. John Thurman Field (Modesto Nuts; CalL)
12. The Hangar (Lancaster Jethawks; CalL)
13. Steinbrenner Field (Tampa Yankees; FSL)
14. Municipal Stadium (San Jose Giants; CalL)
15. Jackie Robinson Ballpark (Daytona Tortugas; FSL)
16. Roger Dean Stadium (Jupiter Hammerheads, Palm Beach Cardinals; FSL)
17. The Diamond (Lake Elsinore Storm; CalL)
18. Five County Stadium (Carolina Mudcats; CarL)
19. Nymeo Field at Harry Grove Stadium (Frederick Keys; CarL)
20. Tradition Field (St. Lucie Mets; FSL)
21. San Manuel Stadium (Inland Empire 66ers; CalL)
22. Lewis-Gale Field (Salem Red Sox; CarL)
23. Henley Field (Lakeland Flying Tigers; FSL)
24. Heritage Field (High Desert Mavericks; CalL)
25. Florida Auto Exchange Stadium (Dunedin Blue Jays; FSL)
26. Space Coast Stadium (Brevard County Manatees; FSL)
27. Sam Lynn Ballpark (Bakersfield Blaze; CalL)
28. Pfitzner Stadium (Potomac Nationals; CarL)
29. Calvin Falwell Field (Lynchburg Hillcats; CarL)
A few notes. First, there are only 29 ballparks here, as the Jupiter Hammerheads and Palm Beach Cardinals share Roger Dean Stadium. Second, the Lakeland Flying Tigers are playing this season at Henley Field due to renovations at Joker Marchant Stadium.
Here are the brackets for this round:
Click on the image for a larger version.