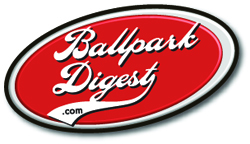 For the baseball team owners, execs and front-office personnel who were at last night's Ballpark Digest Awards Reception at the Winter Meetings, I can say only one thing: thank you.
It was a great night, as I were fortunate to host the best and brightest in the sport, including many award winners past and present. It was a crammed room — we pushed capacity limits at its peak — with lots of enthusiasm and energy. As I looked around the room, one thing was clear to me: these are the people driving Minor League Baseball forward, folks utterly committed to improving the fan experience every day. From Ferris wheels to oversized apple desserts to stunning ballpark renovations to imaginative promotions to a overwhelming commitment to fan service, these are the people lighting the path for the rest of the sporting world. Baseball is a great community, and I was lucky enough to honor some truly great people and teams last night:
Broadcaster of the Year: Steve Klauke, Salt Lake Bees
Best New Logo / Branding: Akron RubberDucks
Organization of the Year: Big Top Baseball
Best MiLB Promotion: Myrtle Beach Pelicans
Editor's Choice: Granderson Stadium, University of Illinois at Chicago
Best New Food Item: BIG APPLE, Fort Wayne TinCaps
Best Ballpark Improvement: Ferris wheel, Quad Cities River Bandits
Best Ballpark Renovation Under $2 Million: Simmons Field, Kenosha Kingfish
Best Ballpark Renovation Over $2 Million: Durham Bulls Athletic Park, Durham Bulls
Team of the Year: Fort Wayne TinCaps
Best New Ballpark: Southwest University Park
Best Marketing Campaign: Lehigh Valley IronPigs, Smell the Change
Executive of the Year: Dan Rajkowski
To top things off, we were honored with an appearance by the King of Baseball, Bill Valentine, who can spin a great yarn about anything — including sewer lines at Ray Winder Field.
Look for our next reception to be even bigger and better in Opryland.