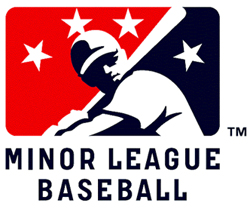 WINTER MEETINGS NEWS–Minor League Baseball President Pat O'Conner presented Frank Burke, George McGonagle and Jack Roeder with Presidential Citations during the Opening Session of the Baseball Winter Meetings this morning. These citations are special awards issued by O'Conner to recognize exemplary service on behalf of Minor League Baseball.
Burke is President & General Manager of the Chattanooga Lookouts (Class AA; Southern League) and the Southern League's Board of Trustees representative. He was an original member of the Baseball Internet Rights Company (BIRCO) board of directors and served as its first chairman. He is largely credited with finalizing the details of the groundbreaking internet agreement with Major League Baseball Advanced Media.
"Frank Burke has been the guiding force in the development of the BIRCO program," O'Conner said. "His tireless effort and commitment to the concept will benefit Minor League Baseball for years to come. Through his selfless effort, Frank Burke has set the bar for member participation in programs that benefit the entire organization. I am pleased to present a 2010 Presidential Citation to Frank."
McGonagle has been connected with the Bluefield Appalachian League baseball club since 1951 in one capacity or another. He served as president and general manager from 1995–2007, before retiring from his GM duties. He has been back as interim GM on two occasions since then, returning to the club in its times of need.
"George McGonagle has been involved in Bluefield baseball for nearly 60 years," O'Conner stated. "Putting the community's baseball franchise ahead of his personal life, George has returned from retirement twice to assume key roles in the organization. For his unselfish service to Bluefield and Minor League Baseball, George McGonagle is a worthy recipient of the Presidential Citation."
Roeder recently retired after 20 seasons with the Cedar Rapids Kernels (Low Class A; Midwest League). In June 2008, Jack and the Kernels played an integral role in their community's recovery from devastating floods. The Kernels' Foundation not only helped the city get back on its feet, but it also led an effort to rebuild much needed baseball fields for underprivileged youth.
"Jack Roeder has shown great leadership throughout his professional baseball career, but none greater than when Cedar Rapids, Iowa, was flooded in the summer of 2008," O'Conner remarked. "Using his ballpark as a staging area, Jack and the Kernels took a leadership role in improving the lives of the afflicted residents. To further help his community, Jack and the Kernels lead an effort to revitalize the severely damaged Jones Park area which serves a troubled area of town. Jack recently retired from the Kernels. However, for his dedicated years of service and leadership in a time of need, I am pleased to award him a 2010 Presidential Citation."
Share your news with the baseball community. Send it to us at editors@augustpublications.com.
Subscribers to the weekly Ballpark Digest newsletter see features before they're posted to the site. You can sign up for a free subscription at the Newsletter Signup Page.
Join Ballpark Digest on Facebook and on Twitter!