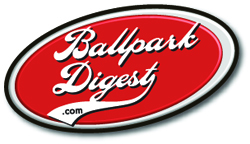 In case you missed it: We've posted the January 31 Ballpark Digest Facebook Live broadcasters chat to YouTube, featuring Jesse Goldberg-Strassler and Mick Gillispie.
You can watch it here:
Each week, Jesse Goldberg-Strassler and Mick Gillispie discuss The Baseball Thesaurus and the language of baseball, broadcasting and broadcasters, and the big stories of the week on Ballpark Digest. Topics for this chat: frigid broadcast conditions, calling a double play,  and what would a baseball version of Tony Romo sound like?
Jesse Goldberg-Strassler is the Voice of the Lansing Lugnuts and the author of The Baseball Thesaurus and The Football Thesaurus. Mick Gillispie is the Voice of the Tennessee Smokies and a spring-training broadcaster for the Chicago Cubs, as well as the winner of the Broadcaster of the Year in the 2017 Ballpark Digest Awards.
The next Facebook Live chat is scheduled for 11 a.m. Eastern / 10 a.m. Central on Thursday, Feb. 7. Ask a great question and we may throw a free book your way. See you there!
To watch and participate, just visit and follow the Ballpark Digest Facebook page: