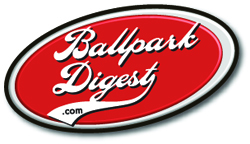 It's TD Bank Ballpark vs. Regency Furniture Stadium in the finals of the Best of the Ballparks 2016 fan vote for independent baseball facilities. So you know what to do to declare the ultimate winner: Vote!

All four finalists came from the Atlantic League. Fans chose the home of the Somerset Patriots (the defending champion, by the way) over Constellation Field, home of the Sugar Land Skeeters, by a healthy margin. (You can see the percentages in the image at the bottom of the page.) It was a closer vote in the other bracket, where two percentage points separated the home of the Southern Maryland Blue Crabs and Clipper Magazine Stadium, home of the Lancaster Barnstormers. Over 4,700 fans weighed in on this particular vote.
With the finalists in place, you know what to do: vote!
We began this year's Best of the Ballparks vote in May with fans asked to choose their favorite Triple-A, Double-A, High-A and Low-A affiliated ballparks. We've launched voting for summer-collegiate ballparks, as well as the fan selection for Short Season A and Rookie ballparks. And, of course, we're running another round this month for MLB ballparks.
We know from our marketing/user research a third of our readers work in the baseball industry, so we're tapping into that collective expertise. And we know from our research that a third of our readers sell to the baseball industry, so that expertise will be valuable as well. The remaining third — fans, media, government — will certainly have a different view on things as well.
One thing to note: votes are filtered by IP address, so we're limiting folks to one vote. (Feel free to hit that reload as many times as you want, but multiple votes will be filtered out of the final tally.)
Voting has ended.
Here is our ranking of independent ballparks, used to launch this year's vote:
1. TD Bank Ballpark (Somerset Patriots; AtL)
2. CHS Field (St. Paul Saints; AA)
3. Shaw Park (Winnipeg Goldeyes; AA)
4. Constellation Field (Sugar Land Skeeters; AtL)
5. U.S. Steel Yard (Gary SouthShore RailCats; AA)
6. Jimmy John's Field (Birmingham-Bloomfield Beavers/Utica Unicorns/Eastside Diamond Hoppers; USPBL)
7. Le Stade Municipal (Quebec Capitales; Can-Am)
8. Community America Ballpark (Kansas City T-Bones; AA)
9. Haymarket Park (Lincoln Saltdogs; AA)
10. Provident Bank Park (Rockland Boulders; Can-Am)
11. Boomers Stadium (Schaumburg Boomers; FL)
12. Sioux Falls Stadium (Sioux Falls Canaries; AA)
13. Newman Outdoor Field (Fargo-Moorhead RedHawks; AA)
14. All Pro Freight Stadium (Lake Erie Crushers; FL)
15. QuikTrip Park at Grand Prairie (Texas Airhogs; AA)
16. Yogi Berra Stadium (New Jersey Jackals; Can-Am)
17. Bosse Field (Evansville Otters; FL)
18. Clipper Magazine Stadium (Lancaster Barnstormers; AtL)
19. Regency Furniture Stadium (Southern Maryland Blue Crabs; AtL)
20. PeoplesBank Park (York Revolution; AtL)
21. Rent One Park (Southern Illinois Miners; FL)
22. Wuerfel Park (Traverse City Beach Bums; FL)
23. Bethpage Ballpark (Long Island Ducks; AtL)
24. Lawrence-Dumont Stadium (Wichita Wingnuts; AA)
25. Skylands Stadium (Sussex County Miners; Can-Am)
26. New Britain Stadium (New Britain Bees; AtL)
27. RCGT Park (Ottawa Champions; Can-Am)
28. Kino Stadium (Tucson Saguaros; Pecos League)
29. Ballpark at Harbor Yard (Bridgeport Bluefish; AtL)
30. Uni-Trade Stadium (Laredo Lemurs; AA)
31. GCS Ballpark (Gateway Grizzlies; FL)
32. Kokernot Field (Alpine Cowboys; Pecos League)
33. Stade Fernand-Bédard (Trois-Rivières Aigles; Can-Am)
34. Silver Cross Field (Joliet Slammers; FL)
35. The Corn Crib (Normal Cornbelters; FL)
36. Albert Park (San Rafael Pacifics; PacAssn)
37. Joe Becker Stadium (Joplin Blasters; AA)
38. Lewis & Clark Park (Sioux City Explorers; AA)
39. UC Health Stadium (Florence Freedom; FL)
40. CarShield Field (River City Rascals; FL)
41. Standard Bank Stadium (Windy City ThunderBolts; FL)
42. The Ball Park (Old Orchard Beach Surge; EL)
43. Consol Energy Park (Washington Wild Things; FL)
44. Griggs Park (White Sands Pupfish; PL)
45. Arnold Field (Sonoma Stompers; PacAssn)
46. Dean Evans Stadium (Salinas Stockade; PL)
47. Wilson Park (Vallejo Admirals; PacAssn)
48. City Park Field (Pittsburg Diamonds; PacAssn)
49. Joe Bauman Baseball Stadium (Roswell Invaders; PL)
50. Fort Marcy Park (Santa Fe Fuego; PL)
51. Alex T. Duffy Fairgrounds (Watertown Bucks; EL)
52. Central Park (Trinidad Triggers; PL)
53. Clint Lightner Field (Garden City Wind; PL)
54. Al Burns Memorial Field (Great Bend Boom; PL)
55. Generals Park (Sullivan Explorers; EL)
56. Lake Shawnee Park (Topeka Train Robbers; Pecos League)
57. Pappas Field (New Hampshire Wild; EL)
AA = American Association
AtL = Atlantic League
Can-Am = Can-Am League
EL = Empire League
FL = Frontier League
PacAssn= Pacific Association
PL = Pecos League
USPBL = United Shore Professional Baseball League
Here are the current brackets for the competition:
Click on the image for a larger version.